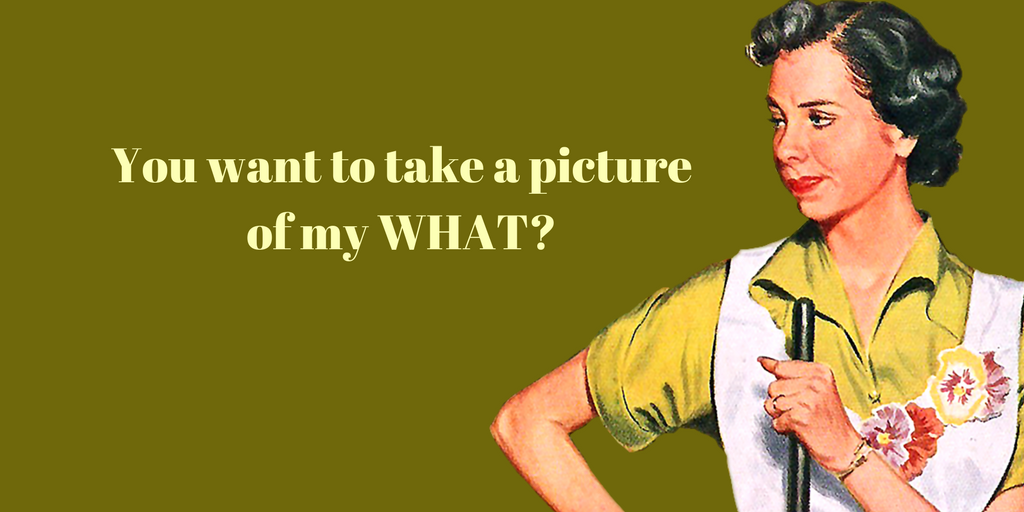 (I wrote another article about vaginas.  To be fair, I only did so after reading the article put out by the good folks at Fstoppers about…wait for it…vagina photography.  I didn't post it for fear people would say, "OMG. She wrote ANOTHER vagina post. She is obsessed with vaginas." Which, after writing two back to back vagina articles, I might be. I filed it away in the folder on my desktop entitled "Things I've Written But Will Probably Never Post." It's kind of a larger folder. Listen, the thoughts have to go SOMEWHERE.
And then the Kathy Griffin issue occurred and awfulness abounded. Although to her credit, Kathy Griffin has succeeded in uniting the country in their dislike of Kathy Griffin. So, at least that deserves a "Well done, Kathy." After reading all the muck on the Internet, I thought to myself, "Maybe I should post this. I mean, it IS photography related. Maybe, just maybe the world needs another vagina post. Maybe yet another vagina post will create some sort of balance in the universe." I don't know that it will, but I don't know that it won't, either.
So, in an attempt to lighten your social media feed, I have removed the article from it's hidden location on my desktop. I hope you enjoy.)
I'm not in the habit of writing about vaginas, not even when people were wearing them on their heads at women's marches. I'm not anti-vagina by any means; it's just they aren't a topic I find interesting to write about.
I have one. I've had it all my life. And I promise you that it rarely factors into my daily thoughts. I don't wake up, stumble downstairs to get my coffee, take that first mind-clearing sip and then say, "Hey, good morning, vagina! How are we doing today? Are you ready to run some errands with me? If you're good, I'll buy you a new pair of panties. Gosh, I just love you so much."
No, that doesn't happen.
And while I believe the human body is beautiful and that we are fearfully and wonderfully made, I'm not into celebrating my vagina. It serves a purpose–several actually. It's part of the female design but I don't spend any time worrying that it is or isn't beautiful. It just…is. I take care of it. I make sure it sees the doctor regularly for check-ups. I even give it cotton panties so that it can breathe. Maybe I do this for selfish reasons, after all, when it's comfortable, I'M comfortable.
But the vagina does not affect my self-esteem one way or the other. Again, for most of life, it stays tucked away in it's little cotton comfort zone.
So when I saw the video "Vaginas are Beautiful: A Photo Project" shared by the good folks at Stoppers. I immediately stopped what I was doing to watch. I was floored that this was a thing. I had no idea that there were women out there WORRIED about how their vaginas looked. Like, in tears about it.
In the video, the female participants lay on a bed fully clothed, pull up their skirt or dress, and hike up their legs, OB/GYN style. The female photographer then photographs the now fully visible va-jayjay through…wait for it…a ring light, proving that even vaginas can benefit from cool looking catchlights.
It's like glamour shot lighting. Glamour Vagina Shots. I didn't see the finished images, but I'm kind of hoping they had little feather boas around them. And 80's hair.
Afterwards, the participants and their partners are shown the Vagina Portraits on an iPad and their feedback is shared with the camera. One of the participants shared that she "feels kind of embarrassed and doesn't know why."
I'll tell you why: You just had your vagina photographed through a ring light for a video that will be shared on social media. That's like saying, "I walked through Costco with my pants off. I felt kind of embarrassed but I don't know why."
The idea behind the project is to help women "feel more comfortable in their skin by showing them and their partners pictures of their genitalia."
I'm thinking, if your partner doesn't know by now what your genitalia looks like, then you've got far bigger problems than loving your vagina.
And although I adore photography, I do hope that this Vagina Photo Project doesn't catch on. I mean, the photography industry is already overrun with needless products peddled to photographers and I fear this video could result in a new niche:
Vagina Photography webinars and workshops.
But if it does, I've got some great workshop titles:
"Vagina Photography: how to take your vagina to the next level"
"The Six-Figure Vagina"
"How to turn your vagina portraits into Heartwarming Christmas cards"
"The Urban Vagina Shoot (this will require a busy downtown intersection)
and last but not least…
"One Vagina: 12 poses."
xoxo