Dear Show Me Center,
I understand you are looking for a house photographer to build a relationship with and have put the call out on Facebook. You want to review websites to assure you have a a quality photographer who is reliable and will deliver great results and you want it all for free.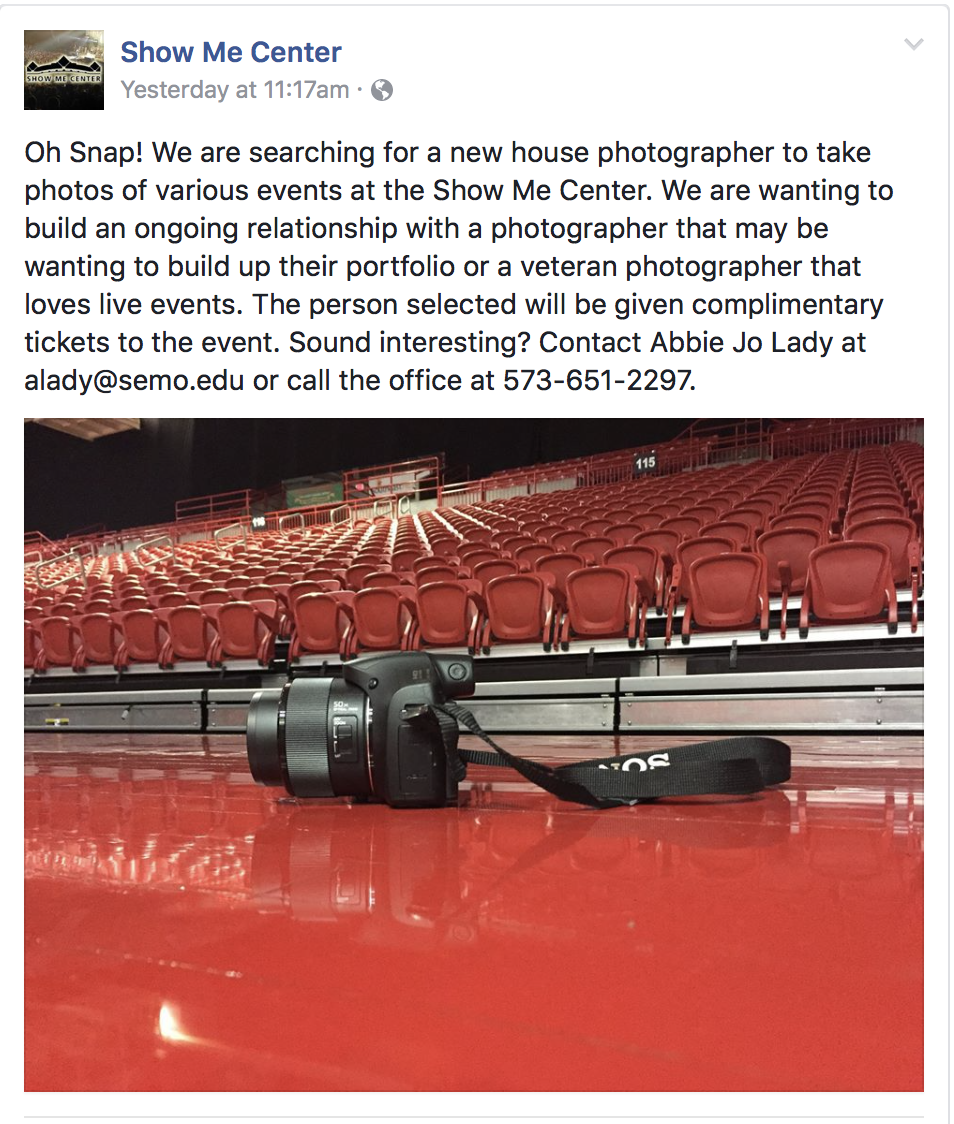 Now I don't blame you for wanting quality. After all, you serve over 250,000 residents of the tri-state area, and have a great national reputation. And I know you care about quality, as you just recently underwent a $5.62 million dollar upgrade: new scoreboards, center hung video display, new seating section, upgraded audio system and LED lighting.
But, I wonder, Show Me Center, after pondering your request for a "house photographer" to work for free, did you actually PAY for the $5.62 million upgrade, or did the vendors who performed the work do so for free? You know, just so they could build a relationship with you and maybe get some tickets to an event? I mean, that makes sense, right?
And then I pondered further, Show Me Center, if the acts that perform in your beautiful arena are allowed to do so for free? Is it just an open sign-up sheet? Maybe with a few stipulations like, "Make sure dressing room is clean before leaving" and nothing more? And are the attendees allowed to watch these wonderful events for free? Kind of a "no charge-first come/first served" sort of thing? 'Cause that makes sense, too.
And finally because I love pondering, I have to wonder if the Show Me Center employee putting out the call for free work, is volunteering his/her time. I mean, if you ask someone else to work for free, shouldn't YOU be doing the same thing?
Now, I can't imagine so, but if the answer to any of the above questions is "no," then you might want consider actually paying your house photographer.
That…or insist your own staff work for free, too.
Thank you.
xoxo