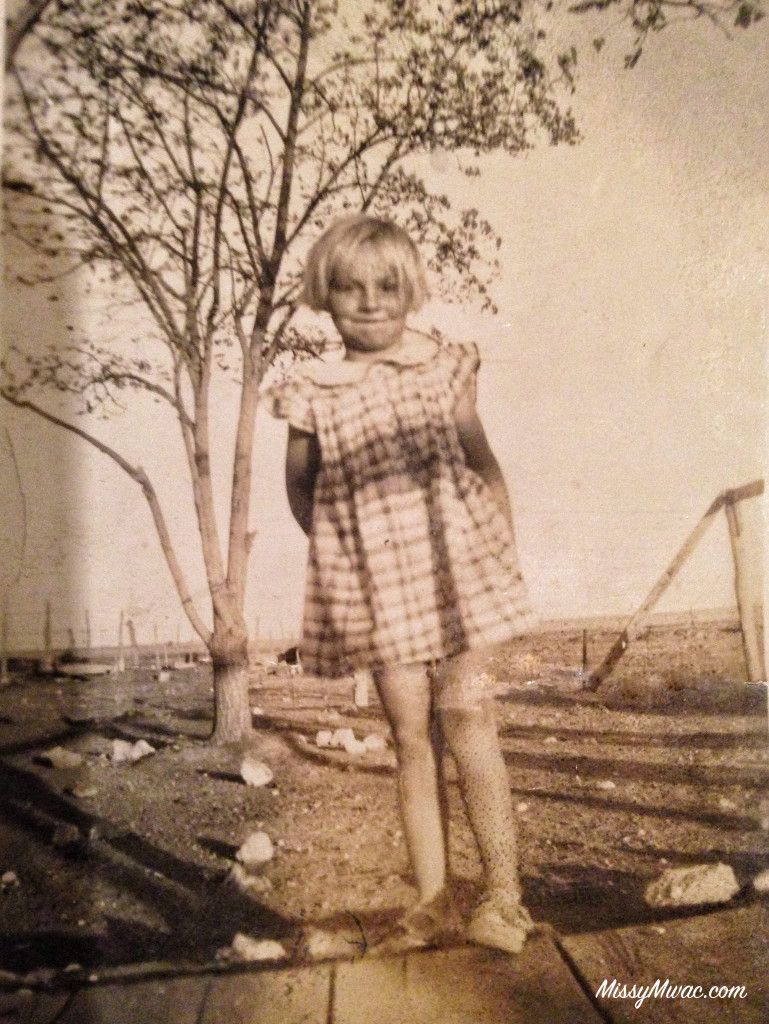 This little messy sprite is my mom. If she was still alive, she'd be 82 this year.
She fell out off a tree just a couple years after this photo was taken. She broke her hip and still walked home. The doctors wrongly diagnosed her with rheumatic fever. (I know, right?) Infection spread throughout her body and she almost died. Because of her hip, she would endure countless operations all throughout her life, some taking her little girl body far from home by herself.
She walked with a pretty substantial limp, although as her daughter, I rarely noticed it.  Because one leg was a bit shorter than the other, she walked with a cane and used it like an extension of her arm, which actually made going to the grocery store fun:
"Mom, I can't reach it. It's on the very top shelf."
She'd raise her cane high above her head and say, "Scoot over and watch this."
I miss her every day, even parts of her I didn't think I would miss, like her stubbornness. She was quick, like lightning, with a wicked sense of humor. Any writing ability I have, I got from my dad. But my sense of humor, I got from my mom. In fact, I have to bite my tongue often because there's too much of my mom rattling around in my head, and she never bit her tongue.
Your welcome.
And as I hold this photo in my hand, this small piece of paper, I marvel at the value it holds because it's the only picture I have of my mom as a little girl. I didn't even know it existed until years after she died and finding it was like finding gold.
And I look at the world around us today…at the extraordinary amount of images being taken, and I worry. I worry that we take for granted these pictures, these records of our lives; that we've become careless with our memories. We snap them with a phone or load them to a gallery and we convince ourselves that we "HAVE THEM."
And while backing up your images is crucial, it's but one step. The way I see it, you don't "have" a picture until you print it.
Because I tell ya true, no one is going to pass down a USB  from generation to generation.
xoxo