Dear HDFX 360,
I saw your sponsored ad on Facebook. Anything that starts with: "History has been reinvented" is sure to get my attention, so well done.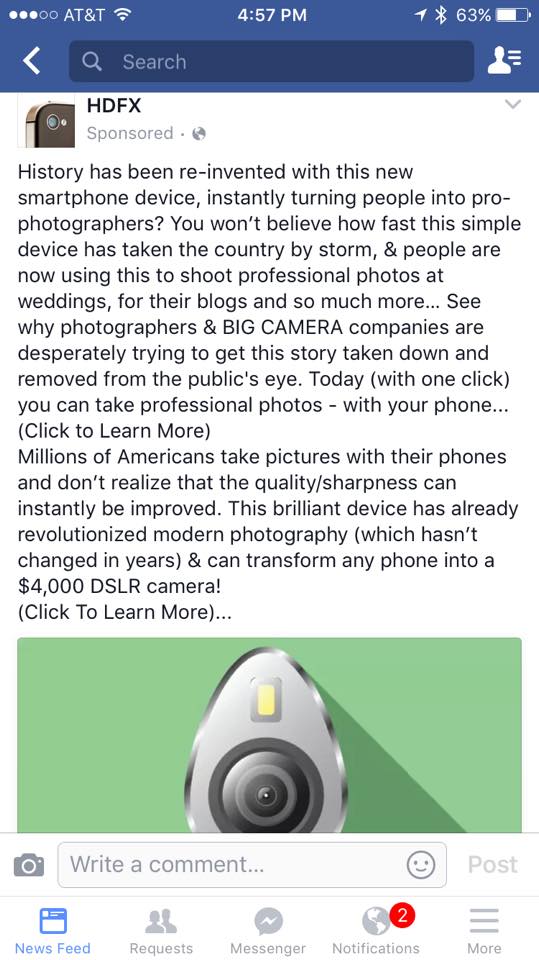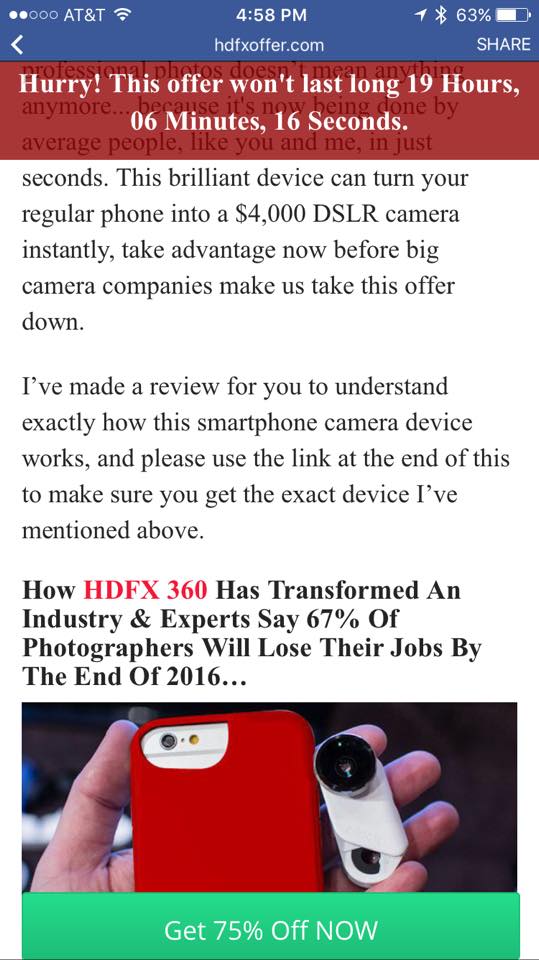 But, dear HDFX 360,  I'm afraid in your zeal to get a product to market quickly, you sacrificed the pitch. It's not awful, it's just, well, your wording needs a little help. And I am nothing if not helpful.
So, as a fellow photographer and lover of cameras, I have crafted the following. Feel free to use it. I don't even need a credit.
You're welcome.
xoxo
"History has been reinvented!" Did we catch your attention? Good. Because we have a new plastic gadget for your smartphone. Wait, come back. Yes, yes, we know this is but another in a long line of gadgets for your smartphone but this one is fast and simple because we know you don't want to have to take time to learn anything. It's taken the country by storm, and by that, I mean the 5 Amercians who have tried it haven't thrown it away yet.
People are now using the HDFX 360 to shoot professional photos at weddings, because really, what bride doesn't want a professional photographer shooting with a smart phone? It's what every little girl dreams of for her wedding. Couples spend many thousands of dollars on their wedding and feel completely comfortable trusting the memory of the day to the photographs taken with the same device you play with while on the toilet.
We've got the BIG CAMERA companies running scared. Canon, Nikon, Sony…they all took one look at this 3″ piece of plastic that fits over a camera phone and screamed in unison, "HOLY MOTHER OF GOD, NOOOOO!" A secret meeting was held in an undisclosed location during which plans for the take down of this threatening smartphone gadget were drawn. It was like the Illuminati of the camera world.
This brilliant device has already revolutionized modern photography, which we believe hasn't changed in years, and can transform any phone into a $4,000 DSLR camera.  We also believe ancient man rode dinosaurs like big horses and that cars used to be made of rocks like in the Flinstones.
So, run, don't walk to pick up your HDFX 360. It's like gluing a metal statue of a cat to your Honda and turning it into a Jaguar.
(PS. After convincing you to buy this piece of smartphone gadget, we ended the pitch by warning you that 67% of photographers will lose their jobs by the end of 2016. That was put in as a joke after a liquid lunch at the pub down the street and the intern forgot to take it out. Just…disregard that. Oh, and it's 75% off.)